Innovative Japanese Stationery
Stationery is more than just a collection of pens and paper; it's a passion, a form of self-expression, and a way to bring joy to our daily routines. From jotting down notes in a meeting to doodling in a notebook during a break, stationery is an essential part of our lives. However, not all stationery is created equal. The quality, design, and functionality of writing tools and accessories can vary greatly, which is why stationery enthusiasts are always on the lookout for innovative products that stand out from the crowd.
There is Japanese stationery that will make your heart skip a beat, whether you're a student, professional, or hobbyist. So continue on if you're prepared to find some new favourites and give your stationery collection a dash of Japanese flair!
Unique Writing Tools
When it comes to writing tools, Japan has some of the most unique and innovative products available. Here are just a few examples of the most unique writing tools that Japan has to offer:
Gel pens with vibrant ink: Gel pens are a favorite among stationery lovers, and Japanese brands have taken this writing tool to the next level. Some popular brands include Uni-ball Signo, Pentel EnerGel, and Pilot Juice.
Mechanical pencils with replaceable leads: Mechanical pencils are a staple for anyone who loves to write or draw. However, constantly having to refill the lead can be a hassle. Japanese mechanical pencils available solve this problem by allowing you to replace the entire lead container, rather than just the individual lead. This makes it easier to keep your pencil fully stocked and ready to use at all times.
Multicolored highlighters: They come in a variety of colours, making them the ideal tool for anyone who likes to color-code their notes or textbooks. You can quickly flip between colours when a highlighter has many colours without needing to change pens or highlighters. Uni Propus and Zebra Mildliner have wide range of colors and are well-known brands.
Brush pens for calligraphy:

Japanese brush pens are a need for anyone interested in calligraphy, whether they are a novice or an expert. You may create lovely letters and brush strokes with the help of these pens thanks to their flexible brush tips and smooth ink flow. Popular brush pen include Tombow Fudenosuke at Washi.
Cute and Practical Desk Accessories
When it comes to desk accessories, Japanese stationery brands have mastered the art of combining cuteness with functionality. Here are just a few examples of the most cute and practical desk accessories that Japan has to offer:
Adorable erasers in fun shapes: Who said erasers have to be boring? Japanese erasers come in a variety of fun shapes, from animals to food items to characters from popular manga and anime. Not only are they fun to collect, but they are also high-quality erasers that can erase pencil marks cleanly and easily. Let's have a look at cute erasers variety!
Sticky notes in unique designs: Sticky notes are an essential item for anyone who loves to jot down quick notes or reminders. Japanese sticky notes take this simple item to the next level with their unique designs and shapes. Whether you're looking for a sticky note in the shape of a cat or a flower, you're sure to find one that will make you smile at Washi's!
Compact pencil cases and desk organizers: Japanese desk organisers and compact pencil cases might help you maximise your workstation if you're working with a limited amount of room. They can help you store your pens, pencils, and other stationery items neatly and efficiently because to its small size and creative design elements.
Functional and Stylish Bags
When it comes to carrying your stationery and other essentials, Japanese stationery brands have got you covered. From sleek and stylish pencil cases to functional and spacious backpacks, Japanese bags are the perfect way to keep your stationery organized and within reach. Here are just a few examples of the most functional and stylish bags that Japan has to offer:
Pilot Frixion pen case: The Pilot "Frixion" pen case is a sleek and functional case designed to hold your favorite pens and pencils. It is made from durable nylon and features a compact design that makes it easy to slip into a bag or purse. It also has a handy inner mesh pocket for storing small items like erasers or paper clips.
Lihit Lab Pencil case: Lihit Lab is a prefered brand among stationery enthusiasts all over the world. From little cases that fit in your pocket to huge cases that can contain all of your necessities, they are available in a range of shapes and sizes. They have innovative design elements like internal dividers and zipped pockets and are manufactured of premium fabrics like polyester and nylon.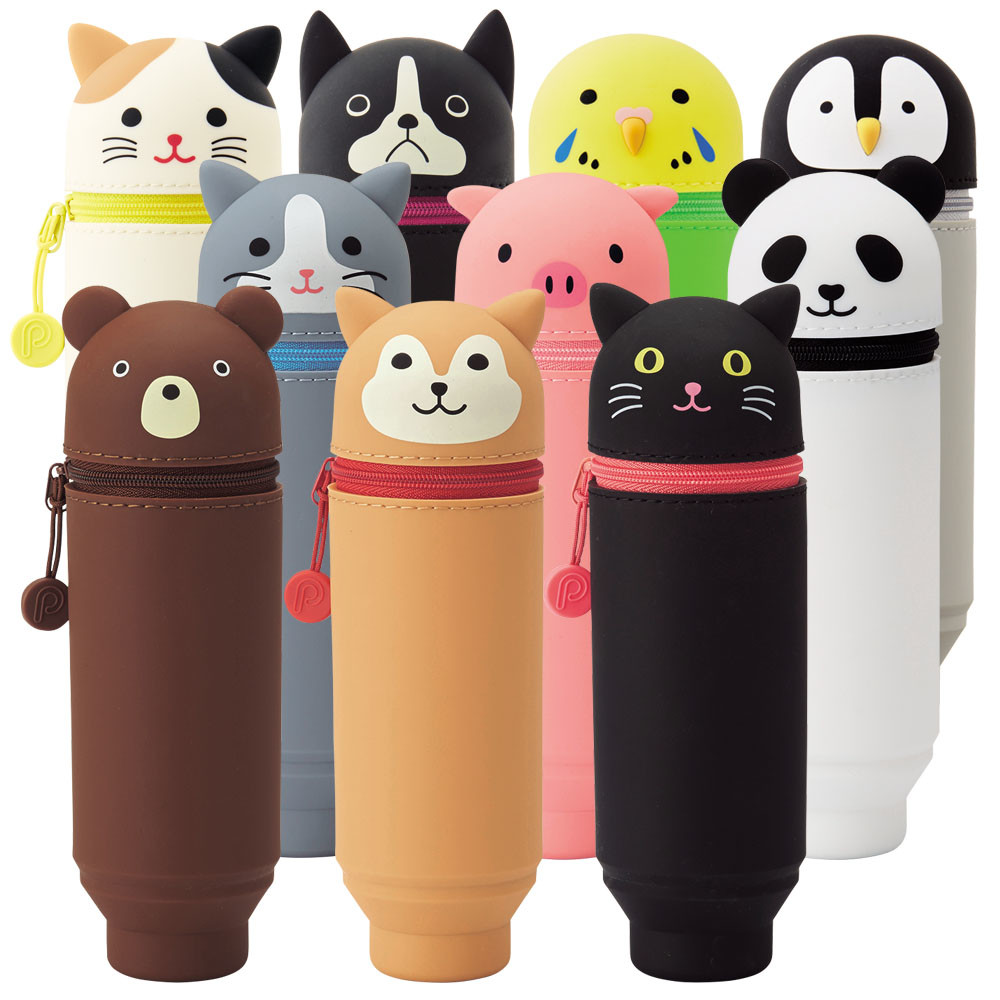 Conclusion
Japanese stationery is a favorite among stationery lovers worldwide for its innovative designs, high-quality materials, and attention to detail. From unique writing tools to cute and practical desk accessories, high-quality paper products to functional and stylish bags, there is no shortage of innovative and useful stationery items available from Japan.
Leave your comment