The Benefits of Washi Tape and Other Adhesive Products from Japan
Sticky situations, be gone! We all know the frustration of trying to fix something, only for the adhesive to give up on us mid-repair. But have no fear, help is here in the form of Washi tape and other adhesive products from the land of the rising sun, Japan! These products are not only reliable but also packed with unique features that you won't find anywhere else.
As stationery lovers, we know the importance of having a trusty adhesive by our side. Whether it's fixing a torn page in a favorite book or keeping our memos organized on the fridge, adhesives play a crucial role in our daily lives. But let's be real, not all adhesives are created equal. We've all been there, trying to mend something, only for the tape to give way or the glue to fail us. It's a sticky situation that can be both frustrating and costly.
That's where Washi tape comes in. Known for its exceptional quality, this product is the solution to our adhesive woes. From its reliability to its unique features, Japanese adhesives and washi products offer stationery lovers the peace of mind they need when it comes to keeping their belongings together.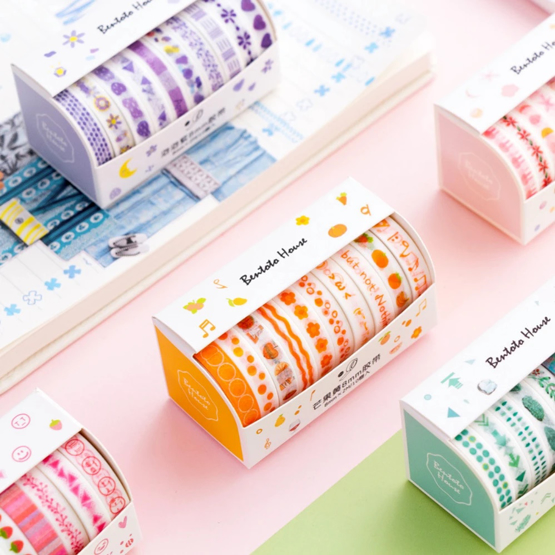 Unique Features of Japanese Adhesives
Japanese adhesives are not only dependable, but they also have a variety of special qualities that are unmatched worldwide. These items offer a variety of advantages that set them apart from the competition, from unique designs to cutting-edge materials.
For instance, many Japanese tapes come in a range of amusing and oddball designs, making them both useful and fashionable. These tapes inject some flair into any project with their selection of adorable patterns and animal prints. Looking for a pattern tape for your creative project? Get yourself amazing range of tapes!
Japanese adhesives offer a variety of cutting-edge materials in addition to their attractive appearance. Some tapes can withstand heat, which makes them perfect for use in the kitchen. Some are translucent, which makes them ideal for use on glass surfaces or as a secure way to hold things without compromising their aesthetic appeal. Even water-resistant adhesives are available to keep your belongings secure even when exposed to water.
Some of the most popular types of Japanese adhesives include washi tape, double-sided tape, and clear tape. Each of these has its own special features that make it unique and ideal for specific purposes. For instance, washi tape is often used for crafting, as it's easy to tear by hand and can be removed without leaving any residue. Double-sided tape, on the other hand, is perfect for securing items that need to be invisible, such as ribbon or trim. And clear tape is ideal for a range of uses, from sealing packages to repairing tears.
How to Incorporate Japanese Adhesives into Your Collection
You might be wondering how to add Japanese adhesives into your personal collection now that you are aware of their advantages and distinctive qualities. There are many ways to incorporate these goods into your life:
Using Japanese adhesives for regular use is one of the simplest ways to start adding them to your collection. These devices are ideal for a variety of tasks, including packaging security and home repair. You won't regret making the transition because to their dependable strength and entertaining designs.
Crafting is an another way to use Japanese adhesives in your life. These tapes and glues are excellent for adding a unique touch to your creations, whether you're producing cards or scrapbooks. Japanese adhesives are an absolute necessity in your crafting supplies, whether you're trying to make a one-of-a-kind scrapbook page or add a splash of colour to your homemade cards.
Japanese adhesives are a game-changer for people who are obsessive about organising. These tools have a variety of useful applications, from label-making to drawer organisation. For instance, you might mark your storage bins with washi tape or organise your cords and cables using double-sided tape.
Japanese adhesives are a useful and entertaining addition to any collection, whether you use them for organised or functional purposes or include them into your crafting endeavours. So why not expand your collection of tape and adhesives right now and discover the advantages for yourself?
Leave your comment