Zebra Mildliner
The Zebra Mildliners are water-based highlighters made in Japan. They are double sided with a broad and a fine tip.
The broad tip is 3mm thick and the fine tip is 1mm thick.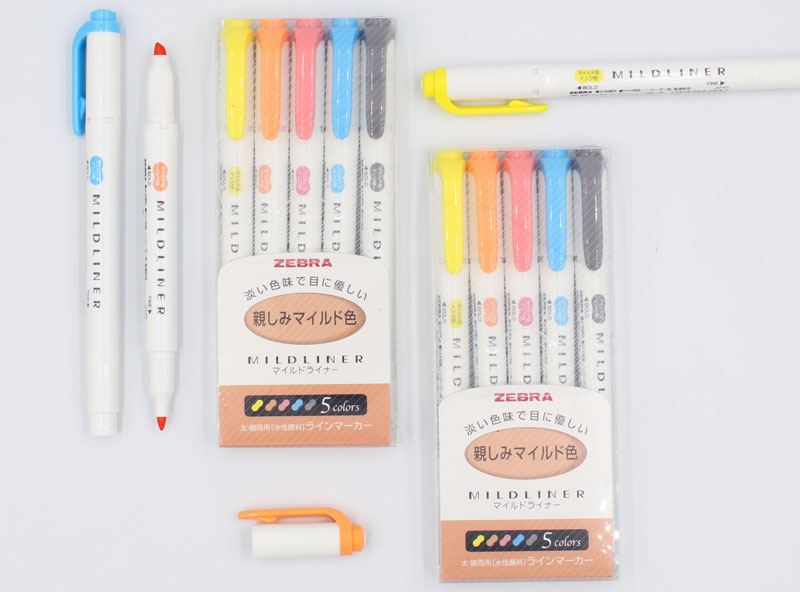 What makes them different from other highlighters are the colours, which are softer and not so much 'neon' as the usual highlighters are. They come in packs of 5 and there are 4 different collections: Pastel, Cool, Warm and Rare.
Paper test
The Mildliners are write pretty well on the paper and are quite juicy, so expect some extra product at the end of your lines once you lift up the pen. Just dub it with a clean finger and avoid touching the page for 1-2 secs until it dries completely.
Apart from the obvious use of the highlighters, which is to underline or highlight in your books or notes while you're studying, you can also use them to add colour in your spreads in no time.

They are very good to colour code and make your headers in your bullet journal.
They work very well with coloured pencils and help you get nice results with vibrant colours in no time.
The Zebra Mildliners have quickly become a cult favourite in the bullet journal community and you can see why! I absolutely love them and I totally recommend them. You can purchase them from here.
Leave your comment