Japanese Stationery: What's the Big Deal?
If you're a stationery enthusiast, you may have heard the buzz about Japanese stationery. With its reputation for high quality, functionality, and unique designs, Japanese stationery has become a favorite among stationery lovers worldwide. But what is it about Japanese stationery that makes it so special?
Japanese stationery products are known for their durability, smoothness, and overall superior performance. From the paper used in notebooks to the ink in pens, every element is carefully crafted to ensure the best possible user experience. This focus on quality is evident in even the smallest details, such as the way a pencil sharpens or the weight of a paper clip.
Japanese stationery is not only useful but also lovely. Japanese stationery manufacturers are renowned for their distinctive and striking designs, frequently taking influence from traditional Japanese motifs and patterns. Every product, from washi tape to pens to notebooks, is a work of art that brings a little beauty to routine tasks.
Quality
One of the key reasons that Japanese stationery has gained a cult following is its exceptional quality. This commitment to quality is evident in every aspect of the products, from the paper used in notebooks to the ink in pens.
One example of this quality can be seen in the paper used in Japanese notebooks. Many Japanese notebooks use high-quality paper that is smooth to the touch and resists smudging from fountain pens or markers.
Japanese pens are also known for their smooth writing experience, with many brands incorporating advanced ink technologies to create pens that write more smoothly and consistently. Uni-ball and Pilot are two of the most well-known Japanese pen brands, with a wide range of products that cater to different writing styles and preferences.
Functionality
In addition to its exceptional quality, Japanese stationery is known for its practicality and functionality. Many Japanese stationery products are designed with specific uses in mind, making them ideal for everyday tasks.
One example of this is the Kokuyo Campus loose-leaf paper, which is designed specifically for note-taking in academic settings. The paper features a dotted rule that is popular in Japan for taking organized notes, and is available in a range of sizes to suit different needs.
Beyond paper and pencils, a lot of Japanese office supplies are made to be multipurpose or space-saving. One very adaptable notebook system is the Midori Traveler's Notebook, which enables users to combine and match various inserts to design a notebook that meets their needs.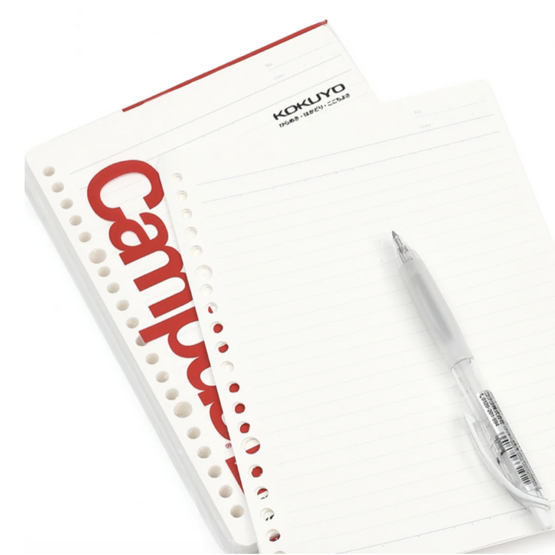 Design
Another key feature that sets Japanese stationery apart is its innovative and stylish design. Japanese stationery products are known for their unique and creative designs that are both functional and aesthetically pleasing.
One of the most well-known examples of this is the Midori MD Notebook, which features a minimalist design with a simple yet elegant cover and clean, unlined pages. This notebook has become a favorite among bullet journal enthusiasts for its versatile design that allows for creative customization and organization.
Product Examples
Now that we've looked at the essential characteristics of Japanese stationery, let's examine some specific product examples that emphasise these traits in more detail:
Campus Kokuyo Loose-Leaf Paper
Kokuyo Campus loose-leaf paper, which was discussed in the functioning section, is a prime illustration of premium, specialist paper. Its smoothness and resistance to bleeding make it a popular among students and professionals alike. Its dotted rule is made specifically for note-taking. Wide range of Kokuyo leaf paper and campus notebooks are available at Washi's.
Erasable Pilot Frixion Pen
One excellent example of Japanese stationery innovation is the range of Pilot Frixion erasable pens. With the aid of these pens' unique erasable ink compound, users may make adjustments while on the go without the use of correction tape or fluid. This makes them a well-liked option for taking notes and keeping journals.
The Zebra Sarasa Clip pen line is a great example of Japanese stationery design, featuring a stylish clip design and a wide range of ink colors to choose from. Its smooth gel ink and comfortable grip make it a popular choice among writers and artists alike.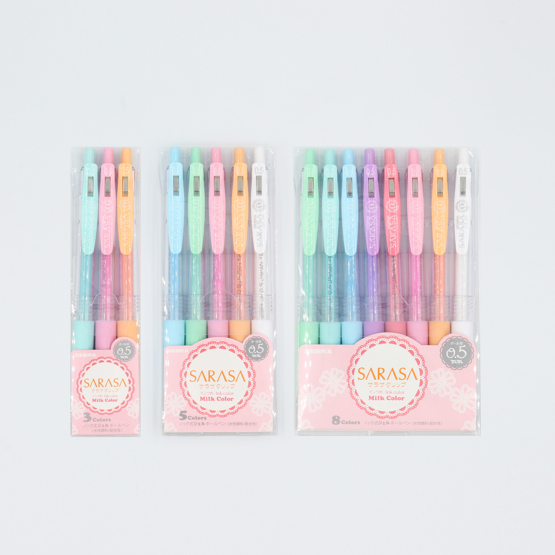 Where to Buy
There are a variety of options for purchasing Japanese stationery products, whether you prefer to shop online or in person. From online retailers like Washi's, JetPens and The Journal Shop to local shops Muji, you can easily find a range of Japanese stationery products to suit your needs and budget.
Conclusion
Japanese stationery has gained a well-deserved reputation for quality, functionality, and design. From specialized paper to innovative pens to whimsical paper clips, Japanese stationery products offer unique features that enhance the writing, drawing, and note-taking experience. Whether you're a student, professional, artist, or simply a stationery lover, there's sure to be a Japanese stationery product that suits your needs and style.
Leave your comment